The result, completed earlier this year, is the "Living Pavilion", which sleeps eight guests in four double bedrooms (all with en suites). Best of all, the four bedrooms are roughly the same size, and all have superb views – important when you have a group of alpha friends and/or fussy kids.
Expect all the best luxury finishes from this just-opened property, created by the two sisters. (Shona is married to Tony Caughey, a fifth-generation Caughey, as in Smith & Caughey's Auckland department stores, founded in 1880).
The Gateway Pavilion is all yours during any stay and is a stunning piece of architectural folly to experience, with its origami-like structure folding around you; playing with the light and senses.
Similarly engaging, the Living Pavilion connects closely with the land and views, taking references from the Gateway, projecting them on a grand scale.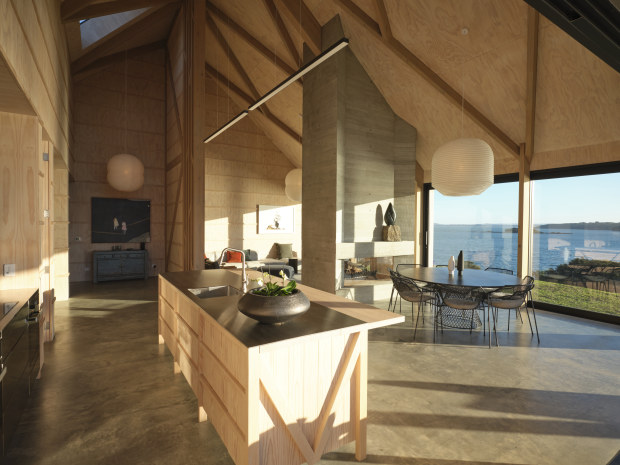 Anyone familiar with the New Zealand design vernacular will pick up on the Living Pavilion's riff off a traditional Maori whare (big communal house). Its elegant gable form sits easily in the landscape.
The design story is expressed through soaring ceilings, timber beams pitching skyward and off on different tangents, plus expansive framed views of sea and sky. Mawhiti is true to its meaning in te reo Maori – an "escape", and an experiential one at that, by a multi-award-winning architectural practice no less.
Stay at Mawhiti Waiheke sits on Park Point Headland, near the village of Oneroa on Waiheke. Priced from $NZ2400 ($2300) a night, it sleeps 8 people in 4 bedrooms. You can transfer direct from Auckland Airport to Waiheke by helicopter.
Vibe Create your very own rich lister fantasy surrounded by a world-class folly on a secluded hillside, drinking fine local wines while enjoying the bright lights of the Auckland skyline at night. In November 2015, Lonely Planet rated Waiheke Island the fifth-best region in the world to visit in 2016.
Lantern House is Japanese pavilion meets jewel box, by Herbst Architects
Once a bohemian enclave of artists and urban escapees, ancient Waiheke Island (named by the Maori people for its "cascading waters") is now the preserve of boutique wineries, high-spec homes and helipads.
Lantern House bridges the two distinct faces of this island – jet-setting glamour and sea changers chasing the good life hooked by the island's beauty – with a show-stopping design by Herbst Architects, based in Auckland.
The house's owners, Andrew Glenn and Jonathan Rutherfurd Best, were heavily involved in designing the interiors. Shortly before the house was finished in 2018, the couple sold their popular Waiheke restaurant and hotel The Oyster Inn.
Glenn and Rutherfurd Best, who returned to New Zealand from London in 2011, share a passion for Eastern design principles and aesthetics, which play out in the art and objects on display throughout the home, along with the clear influence of Japanese pavilion architecture.
Lodged on a cliff top 90 metres above Onetangi beach, the north-facing views are dramatic, panoramic and Waiheke at its finest. Herbst has won numerous awards for its residential architecture, and its design language is clearly read in the dark timber screens that dress the handsome exterior. With textured handmade tiles and a wealth of functional antiques, the interiors are as tactile as the view at your fingertips. Even from the sheltered courtyard and plunge pool, those expansive sea views are ever-present.
Stay Lantern House, 8 Brown Rd, Onetangi on Waiheke, is priced from $NZ1395 a night, and sleeps 6 people across 3 bedrooms, each with an en suite featuring a rain shower.
Vibe When you tire of the panoramic views and the gracious home, try a spot of bird watching, including tui, piwakawaka, kereru and hawks. "At night, the drama comes back to the house – there's a jewel-box feel, and the darkness emphasises the way we've been able to control the lighting to create a mood," says Jonathan Rutherfurd Best.
Keeping it compact and cute in Queenstown: The Bivvy House by Vaughn McQuarrie Architects
Nicknamed the Bivvy House, this seriously upscale bivouac built on Queenstown's Lake Wakatipu was commissioned by a couple of experienced hikers who reside in Australia but regularly make the trek back to their South Island home to indulge their passion for walking.
Originally from New Zealand, physicians Jen Arnold and Alan Luckie are not unfamiliar with pitching a tent. But desirous of a far more permanent, well-crafted dwelling across the ditch, they engaged Waiheke-based architect Vaughn McQuarrie to work some magic.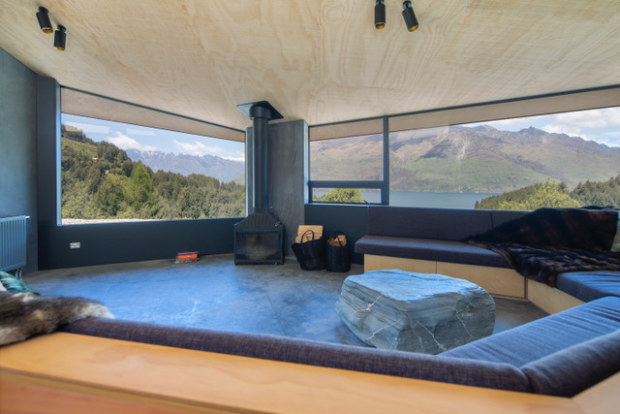 In 2019, McQuarrie delivered the couple a multi-award-winning piece of architecture that cloaks its inhabitants with a protective barrier to the elements; inside, angular walls and interesting nooks and crannies create a series of curious spatial experiences.
There's a tent-like quality here that also can be seen in Luckie's award-winning Bethanga House in Victoria – an energy-efficient design by Michael Markham of Melbourne-based design firm the Tug Workshop.
While Bethanga House captures the sparse rural Victorian landscape, Bivvy frames views to Lake Wakatipu and mountains to the north, while the house's "flank" is presented to the south, where the entrance resembles a pinned-back tent flap.
Located about 30 minutes' drive from Queenstown, Bivvy places you within your own blissed-out world, yet in easy reach of all the town's amenities, should you find the will to leave.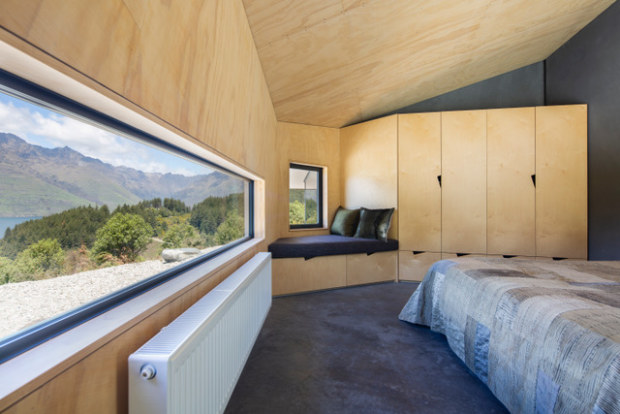 Stay Located on Closeburn Rd, Queenstown, Bivvy House is priced from $695 a night, sleeps 4 people across 2 bedrooms, with 2 bathrooms.
Vibe When it won the 2019 Southern Architecture Award for a small project, Bivvy was described as a "compact dwelling that follows the line of the hillside, bravely and unconventionally sloping down towards the view. The stepped plan stretches the view of the mountains long and low, just like a rock outcrop would."